Integrations are the building blocks of advisor success. At Mobile Assistant, we're constantly searching for ways to enhance user experiences and build better processes for advisors. 
That's why we're proud to integrate Mobile Assistant with Wealthbox, allowing financial professionals to send notes, client details and tasks directly to the Wealthbox CRM – just using their voice. 
Today, we're exploring what the Wealthbox integration can do for your firm, how it works and other resources you can use to get started. 
What Does the Mobile Assistant + Wealthbox Integration Do?
The integration between Mobile Assistant and Wealthbox CRM allows advisors to dictate notes and automatically upload them into their Wealthbox account, share relevant information with team members and translate notes into follow-up tasks. 
Instead of waiting until you're in the office and have some free time to type up your meeting notes, you can talk your notes directly into your phone. Once you're done, the notes will be transcribed and organized by professional transcriptionists, and then sent directly to the corresponding client account in Wealthbox. 
The integration is perfect for busy advisors looking to streamline processes and create greater efficiencies in their workflows – while also ensuring all client notes and tasks are uploaded and completed.
How Do I Use the Mobile Assistant + Wealthbox Integration?
To start using the integration, you'll need to follow a few simple steps:
To record your notes and send them to Wealthbox, you'll first need to open your Mobile Assistant TalkIt+ app on your mobile phone.

Now we'll get started with your notes. Since your notes will arrive in an email (as well as in the Wealthbox CRM) we recommend you begin your message by saying "Subject line is _______." When your notes are transcribed and ready, they'll show up in your email under that subject line. 

Next, you can speak your notes! Keep in mind that if you want your notes sent to Wealthbox as an Activity, you'll need to state that at the beginning of your recording. 
If you want to rewind or pause throughout your recording session, use the in-app buttons.
When you're finished, press submit button.
And that's it! Your notes will arrive transcribed and organized automatically to your Wealthbox CRM as a Note.
Where Can I Learn More if I Have Other Questions?
Want to explore how the Wealthbox and Mobile Assistant integration can enhance your firm's processes? Check out the resources below to get started. 
Watch the Wealthbox + Mobile Assistant Webinar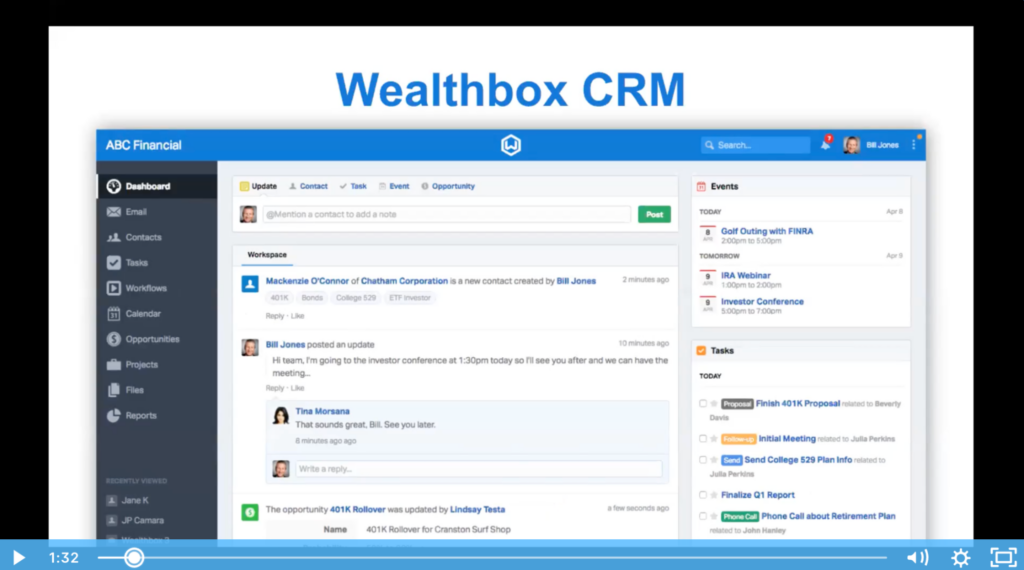 We teamed up with Wealthbox to bring you an in-depth webinar, which covers:
An overview of Wealthbox's modern CRM

A full walkthrough of how the CRM looks and works in action

Workflow examples from real users

Contact information for any follow-up questions you may have
Click here to access the free, on-demand webinar recording. 
Access the Mobile Assistant + Wealthbox Quick Start Guide
If you're already signed up for the integration, grab our Quick Start Guide below for tips on getting notes sent to your CRM, accessing your online account, dictating and more. 
Click here to download the Mobile Assistant + Wealthbox Quick Start Guide.
About Wealthbox
Integrated with leading custodians and wealth-tech partners, Wealthbox is known for its modern product design and powerful yet intuitive user experience. The collaborative platform allows financial advisors, enterprise firms, and broker-dealers to manage client relationships while streamlining operations. With a focus on simplicity and usability, Wealthbox makes use of modern design and development practices and reflects the growing consumerization of B2B software for financial advisor teams of all sizes.
About Mobile Assistant
Through a unique combination of cutting-edge dictation technology and US-based professional transcriptionists, Mobile Assistant delivers process-driven workflows and precise transcripts that save advisory teams time, increase CRM adoption and enhance client services. With the TalkIt+ app and Assistant Template Manager, Mobile Assistant provides flexibility, standardization and efficiency to financial professionals, fostering meaningful experiences for both their team and clients.