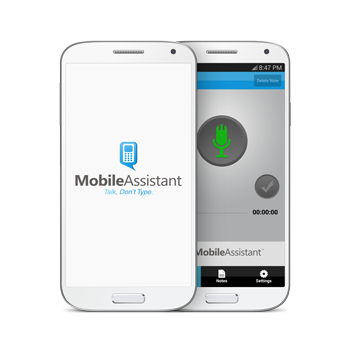 VERONA, WI, March 14, 2014 "" Mobile Assistant, the professional quality voice-to-text dictation service for the financial, insurance and sales industries, announces the release of its Android Application, TALK IT, this week.  Mobile Assistant's TALK IT is a high quality transcription service and an alternative to inaccurate automated voice-to-text solutions on the market, appealing to financial advisors and insurance agents as an easy way to accurately and securely document client meeting notes.
TALK IT by Mobile Assistant provides a simple approach to note-taking, Talk, Don't Type!  Speak your notes, and a professional, live transcriptionist accurately types your notes and sends you an email with an exceedingly accurate transcription.  Powerful and cost-effective, mobile dictation is quickly becoming a technology tool of choice for financial advisors and insurance agents looking to implement solutions that can immediately increase efficiencies in their practice.  The use of live professional transcriptionists sets Mobile Assistant apart from other sub-par voice-to-text solutions, resulting in extremely high quality notes.  Mobile Assistant's TALK IT will transform your Android into a professional quality voice-to-text device.
"On average our clients save approximately 3.5 to 4 hours of typing for every hour of dictation using Mobile Assistant," says Corey Westphal, President of Mobile Assistant.  ""¦ the time saved typing meeting notes and emails can be used to procure additional business opportunities by our users or nurture existing client relationships.  This time is invaluable to our clients and their success."
TALK IT by Mobile Assistant:
Uses professional, US based transcriptionists trained in financial and insurance industry terminology to accurately type your notes.
Does not use automated transcription software, unlike many voice-to-text solutions in the marketplace.
Has no time limit per call.
Secure and confidential.  Mobile Assistant is a HIPAA compliant company, which means your data is secure.
Allows access to view transcribed notes right on your Android for easy access and reference.
Provides the ability to use anywhere and anytime without requiring a cellular network connection (higher quality dictation, resulting in higher quality notes).
Integrates with CRM providers such as: Advisors Assistant, Ebix SmartOffice, & Redtail Technology
Is available to our existing and new users for no additional charge
"Increased client documentation combined with time savings is hard for most people to imagine, but using Mobile Assistant TALK IT accomplishes both," says Westphal.
Adopted as a tool to immediately document information after meeting with a client or prospect, using TALK IT is a great step towards bulletproofing a practice.  Capturing more detailed meeting notes that are time and date-stamped by Mobile Assistant, with the original note stored on a secure database, makes TALK IT a compliance officer's dream.
TALK IT by Mobile Assistant is available to download for free from the Google Play Store (Download TALK IT by Mobile Assistant).  Users can register for a free trial directly from the app or visit http://www.mobileassistant.us to sign up for a free trial.
Mobile Assistant is the leading provider of professional Mobile Dictation and Voice-to-text services in the financial, insurance and sales industries. Mobile Assistant offers a secure, easy way to accurately document meeting notes. For more information or to sign up for a no obligation Free Trial, visitwww.MobileAssistant.us or call 888-373-1916.
###
MEDIA CONTACT
COREY WESTPHAL – PRESIDENT
319 Yard Drive
Verona, WI 53593
corey.westphal@MobileAssistant.us
(888) 373-1916